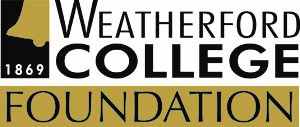 Weatherford College is grateful for the financial support it receives from alumni, friends, faculty, staff and businesses. This philanthropy has enabled WC to continue its impact on thousands of students – a tradition we've upheld since 1869.
The Weatherford College Foundation exists to perpetuate that support and develop more resources for students. As our college grows, so does our need for generous donors.
Whether it is by making a gift to the Annual Fund, establishing an endowed scholarship or through planned giving to benefit the college in the future, the Weatherford College Foundation invites you to make an investment in the higher education of tomorrow's leaders. The foundation and the Institutional Advancement Office stands ready to answer your questions about ways to give to WC that are consistent with your own charitable giving goals.