Wiggs Family Foundation donates $1,000,000 to WC School of Nursing
June 24, 2021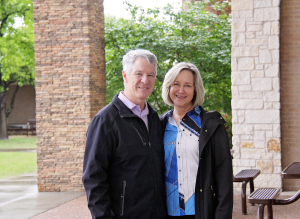 The Weatherford College Foundation announced the largest cash gift in the history of Weatherford College, a $1,000,000 donation from Brett and Alesia Wiggs through the Wiggs Family Foundation.
This gift will expand opportunities for the education of more nurses in the local community. Funding will provide critical equipment upgrades at both the Don Allen Health Science Building in Weatherford and the nursing facilities at the WC Wise County campus.
"What an unbelievably generous gift," said Bob Glenn, WC Foundation president. "The Wiggs family has a long history of serving others, and this is proof positive. I am so proud to be associated with them, and I can't wait to see how this helps train the next generation of nurses."
In honor of this gift, the WC School of Nursing will be newly named the Alesia Armstrong Wiggs School of Nursing.
Weatherford College has made an incredible impact on the education and lives of many generations of the Armstrong and Wiggs families. Brett's father, Bruce, and brother, Guy, as well as Alesia and her siblings, Craig and Angie, all attended WC. Brett's mother, Laura, taught at the college for many years and was an active member of the WC Foundation Board. Alesia's mother, Vera Armstrong, attended WC and worked in the WC Library for many years.
After studying at WC, Alesia earned her Bachelor of Science in Nursing degree from TCU and became a registered nurse. Alesia's passion for nursing and her family's focus on education helped guide the direction of this generous gift.
"Weatherford College gave me a great start towards my career in nursing," said Alesia. "My family is honored to make this gift to the Weatherford College Nursing program. This gift will help WC educate and prepare exceptional nurses while improving the lives of many people."
WC President Tod Allen Farmer said the Wiggs gift will put the college's nursing program in a class by itself.
"Weatherford College is already known for our exceptional nursing programs, and this generous gift will enable the Alesia Armstrong Wiggs School of Nursing to become the premier school of nursing in Texas and beyond," Farmer said. "We are extremely grateful to the Wiggs Family Foundation."
The college will celebrate the gift with a public dedication of the Alesia Armstrong Wiggs School of Nursing this fall at a date to be determined.