Weatherford College Night at Globe Life Field scheduled for Sept 16
June 28, 2021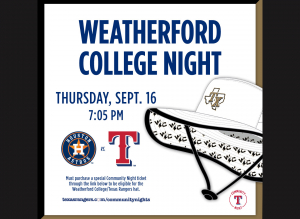 Weatherford College and the WC Foundation have announced a partnership with the Texas Rangers to host Weatherford College Night at Globe Life Field Thursday, Sept. 16. The Rangers will play their rival, the Houston Astros, that evening with a 7:05 p.m. first pitch.
WC alumni, friends and community members can purchase seats in the "Coyote Section" for $26 each with the first 500 receiving a limited-edition hat co-branded with the Rangers and the Coyotes in WC black and gold.
The college is also offering bus transportation to and from Globe Life Field for $15 apiece. Bus reservations will be limited.
The WC group will sit in sections 226, 227 and 228 on the first base/right field side of Globe Life Field.
Weatherford College Night tickets can be purchased at fevo.me/wc.
To make bus reservations or for more information, contact Jaci Trotter at jtrotter@wc.edu or 817-598-6272.