Weatherford College honors 35 area teachers
February 8, 2021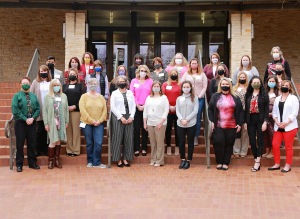 Weatherford College recognized 35 of the finest teachers from across the region at the annual Jack Harvey Academy of Exemplary Teachers celebration Friday, Feb. 5, at the Doss Heritage and Culture Center in Weatherford.
Celebrating its 25th year, the Harvey Academy honors exemplary teachers in the memory of Professor Emeritus Jack Harvey, who taught at WC for 23 years and was considered among his peers as a "master teacher."
This year's keynote speaker was Eric Hale, the 2021 Texas Elementary Teacher of the Year and the state representative for the 2021 National Teacher of the Year awards. Hale teaches first and second grade at Davis G. Burnet Elementary School in Dallas. He was named a Master Teacher by the State of Texas and received the 2019-20 Queen Smith Award as the top elementary school teacher in an urban school district in the nation.
The 2020-21 Jack Harvey Academy of Exemplary Teaching awardees are:
Aledo ISD – Catherine Williams, 10th-12th grade AP history and economics at Aledo High School
Alvord ISD – Carrie Morgan, 4th grade writing at Alvord Elementary
Azle ISD – Randi Coffey, special education: English language arts and reading at Azle High School
Birdville ISD – Erin Hippert, 1st grade at Hardeman Elementary
Bowie ISD – Holly Lawhorn, prekindergarten special education at Bowie Elementary
Boyd ISD – Blake Smith, math: calculus, college algebra, and college ad career readiness at Boyd High School
Bridgeport ISD – Candice Bentley, 3rd grade at Bridgeport Intermediate School
Brock ISD – Tina Harper, 8th grade English and U.S. history at Brock Junior High
Bryson ISD – Laura Gregory, science: 6th grade, 8th grade and high school
Burleson ISD – Riki Bunch-Pettigrew, interventionist at STEAM Middle School
Castleberry ISD -- Marshall Harrell, prekindergarten through 5th grade music at A.V. Cato Elementary
Chico ISD – Kathryn Dey, 10th-12th grade math at Chico High School
Elite Christian Academy – Ariel Platt, 6th-8th grade
Garner ISD – Holli Pontremoli, kindergarten through 8th grade PE and outdoor education
Gordon ISD – Lily Cormack, middle and high school science and yearbook
Graford ISD – Lisa Henderson, 2nd grade math and science
Granbury ISD – Jairo Martinez, 4th grade at the Mambrino Elementary School STEAM Academy
Huckabay ISD – Vinnie Heller, 8th-12th grade agricultural sciences
Jacksboro ISD – Jennifer Conner, 6th grade English and reading specialist at Jacksboro Middle School
Joshua ISD – Camren Allred, 8th grade science at Loflin Middle School
Lipan ISD – Vickie Posey, 4th-5th grade math at Lipan Elementary
Millsap ISD – Karen Buchanan, 4th grade science and social studies at Millsap Elementary School
Mineral Wells ISD – Margie McGhee, kindergarten at Lamar Elementary
Muenster ISD – Jill Reiter, 1st grade at Muenster Elementary
Palo Pinto ISD – Glenda Valencia, 4th grade at Palo Pinto Elementary
Paradise ISD – Ashley Markum, kindergarten at Paradise Elementary
Peaster ISD – Erva Erwin, 4th grade science at Peaster Elementary
Perrin-Whitt CISD – Lauren Draper, 7th-12th grade science at Perrin Junior High
Poolville ISD – Hope Sorrells, 9th-12th grade agriculture education at Poolville High School
Santo ISD – Shanna Andreatta, 4th grade language arts at Santo Elementary
Springtown ISD – Chelsea Strickland, 6th grade math at Springtown Intermediate School
Stephenville ISD – Jenna Vrla, 7th grade English and language arts at Henderson Junior High
Trinity Christian Academy – Kimberly DeNeefe, 1st grade
Weatherford ISD – Charlotte Erwin, 6th grade math at Hall Middle School
Weatherford College – Dr. Diann Ainsworth, English professor
Not pictured: Catherine Williams, Holly Lawhorn, Blake Smith, Kathryn Dey, Vinnie Heller and Ashley Markum