WC Wise County hosts first high school weld-off
May 11, 2021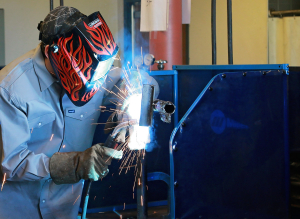 Students from seven area high schools participated in the first annual Wise County Weld-Off Friday at the Weatherford College Wise County campus.
Twenty-five students from Alvord, Boyd, Bridgeport, Chico, Decatur, Paradise and Slidell competed in the WC Workforce Education hosted the event for individual and overall team awards.
Top individual awards for pipe weld-out went to Maddox Drager, Bridgeport, first place; Taylet Rademacher, Paradise, second place; and Jose Belen Morales, Decatur, third place.
In MIG (metal inert gas) testing, first place went to Matthew Holcomb, Decatur; second place to Hayden Copen, Decatur; and third place to Garrett Darden, Bridgeport.
For stick testing, first place went to Cy Ferguson, Boyd; second place to Matthew Holcomb, Decatur; and third place to Sean Sanchez, Boyd.
The top three teams for the competitions were Decatur, first place; Bridgeport, second place; and Boyd, third place.
Scott Rawlings, an agriculture teacher from Boyd High School and adjunct welding instructor for WC, helped organize the event.
"The weld-off is a great way for Weatherford College to continue their partnerships with the local independent school districts," Rawlings said. "There are plans to continue this event each year to provide an opportunity for welding students to showcase their skills and to learn about future college and career opportunities that are available here in Wise County."
Brent Williams, a retired agriculture instructor, and Kyle Bradshaw, a WC adjunct welding instructor, were the judges for the competition.
The Workforce Education Department plans to hold another weld-off once the new Emerging Technologies and Workforce Building is complete on the Weatherford campus.
"Local businesses will also be included in future weld-offs who may be looking for welding employees or apprentices so that they have the chance to visit with the top welding prospects from the area county high schools," said Kristin McLaughlin, coordinator of WC Workforce Education industrial programs.