WC Upward Bound students assemble meals for orphans
April 23, 2021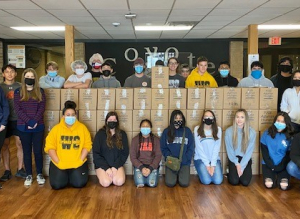 Weatherford College Upward Bound students joined forces with Kids Against Hunger Parker County and Grace First Presbyterian Church this past weekend to assemble more than 11,000 meals that are now on their way to an orphanage in Mexico.
This is the fourth year that WC Upward Bound students have participated in this event.
"The message is, it's better to give back than to receive," said Jeff Kahlden, Upward Bound director. "Many of our students have received assistance from various sources, and we feel that they can give back to help perpetuate a culture of giving back."
In addition to learning teamwork and improving their communication skills, the students are also made more aware of hunger issues worldwide while packaging the meals that consist of dried vegetables, soy protein, rice and a flavoring with 21 vitamins and minerals.
"Now, more than other times in our recent past, in any time in history, a part of what sustains the human race is kindness," said Jabin Burns, a senior at Springtown High School.
"It's fun to work with the other students and be able to help people less fortunate than myself," said Derek Borjas, a junior from Mineral Wells High School.
The WC Upward Bound program is federally funded by the US Department of Education and welcomes participation by interested individuals regardless of race, national origin, gender or disability. The program serves students from Gordon, Millsap, Mineral Wells and Springtown ISDs.