WC Summer Stage presents "Much Ado About Nothing"
July 26, 2021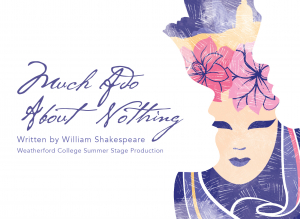 The Weatherford College Summer Stage presents Shakespeare's "Much Ado About Nothing," Aug. 4-7 in the Alkek Fine Arts Center.
Showtime is 7:30 p.m. each evening, with doors opening a half-hour prior. Admission is free.
"Much Ado About Nothing" traverses the dangers of little lies through innocent omission, trickery and ill-intended decent. The play shows there is a price to pay for all of these acts.
Show director Mike Endy said these are themes that continue to hold relevancy in the world as trivial items make national headlines and the public is required to remain diligent at sorting truth from fiction.
"On a less serious note, it's a comedy," he said. "So, we're not going to have poisoned kings, warring princes or star-crossed lovers. The play is fun. It's witty."
Endy, WC's vice president of instruction and student services, has a long history in the theatre. He believes Shakespeare is just as relevant in 2021 as when he toured with the Ashland Shakespeare Association in 1985.
"You only have to be in the audience once when the playwright's work is handled by people who respect the work and love the audience to understand why he is considered the master," he said. "It's not the flowery speeches, lofty language or clever plots that set his plays apart. The clarity, commonness, and loving presentation of humanity that shines through over 400 years of our collective history makes experiencing Shakespeare's work in its intended form special.
"Just as there is room in the world for Billie Eilish, Pistol Annies and Beethoven, we are fortunate to have the works of J.K. Rowling, Walt Whitman and William Shakespeare from which to choose for our entertainment."
Originally set in Sicily just after a war, this version of the play is set immediately following World War II to make the play more familiar to the audience, Endy said.
The cast includes a variety of community members, WC employees and WC alumni including Erin and James Brownlee playing the leads of Beatrice and Benedick. James Brownlee is WC's drama instructor and met his wife, Erin, when they were both theatre students at WC.
"Having a married couple playing our lovers is rare," Endy said. "We also have Brad and Hayley Vantine playing father and daughter, Leonato and Hero. You won't see that real-life relationship mirrored on stage very often."