WC student 'speaks for the trees' to assist sapling project
October 18, 2021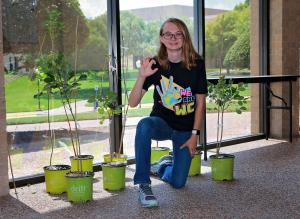 Elizabeth Shaw is not one to let an opportunity go by, or, in this case, 20 opportunities.
Shaw, a second-year environmental science major at Weatherford College, is caring for not one, not two, not even three, but about 20 sapling trees.
"I love trees. I want to make sure everything gets the chance to live because I know that trees provide us with shade, air, and a place to lean on," Shaw said. "Without the trees on campus, my stress would probably be a lot worse, as I love to sit and lean on them if I feel frustrated with my day or just watch them rustle in the breeze."
It all started as part of WC's reaccreditation process requiring the college to have a five-year QEP (Quality Enhancement Plan). So, WC recently started promoting its new QEP – ROOTS (Resources Open Opportunities to Students).
To further plant this concept in the minds of students, faculty and staff, dozens of saplings were handed out to employees during fall in-service. They were told to keep their tree alive and to decorate a planter that would be judged later in the semester.
"The sapling contest was conceived as a way to raise awareness of the ROOTS QEP all across campus," said Katie Edwards, QEP committee member. "WC departments get to have a friendly competition amongst themselves while highlighting the resources they have for students in how they decorate their sapling's planter."
The current plan is to display the trees each fall semester and let students judge which one looks the best. Those surviving the five years will be planted on the WC Weatherford campus, the Wise County campus and at the college's feeder high schools.
After all the saplings were dispensed in August, there was about 20 extra. It didn't take long to figure out what to do with them as Shaw asked Traci McKinley, in charge of QEP, if she could take care of them.
"I feel better when I help them live because they are so vital to a better, more functional, and motivational environment," Shaw said.
Shaw cares for the saplings about twice a week, she said. She takes a couple of gallons of fertilized water and gives them as much water as she can.
Mostly the saplings are kept in small pots outside various office doors. But often, they find themselves battling the hot Texas sun.
"I do my best to remember how vital each one is and come walk around to water them with whatever I have, even if I run out of fertilized water," she said.
Shaw has a long history of loving nature, especially trees.
"There is a lot of deforestation causing air pollution and depression among the people as they lose touch with what it means to keep something alive," Shaw said. "The trees also stop erosion, help clouds form, and, well, are really just pretty fun to climb. Being in environmental science, my favorite hobby is probably whatever I can do to help an ecosystem flourish."
Ironically, Shaw did not grow up a country girl. But her grandparents did live along the Llano River, where she spent her free time making dams as a kid to help the water flow and digging up dirt for fun. Her future goals include starting a tree farm someday.
For now, she cares for the trees at WC and hopes her example will bring others on board when she transfers to a university. She is already getting some help from others who watch what she is doing.
"Someone at the Boyd Building offered to help me fill my two jugs after he saw me filling them up at the water fountain, and I told him I was watering the trees," she said. "He kindly helped me fill them up again with water from the hose inside the janitor's room, saying to come ask before he leaves at 5 p.m. if I ever needed water from there again.
"I happen to run out of water a lot, so I fill up from water fountains or wherever I can. I have also used water from the cafeteria to water the trees. Sometimes I forget why I do what I do; then when I do just a little bit again, I can't help but feel much fulfillment in myself—especially when other people join in."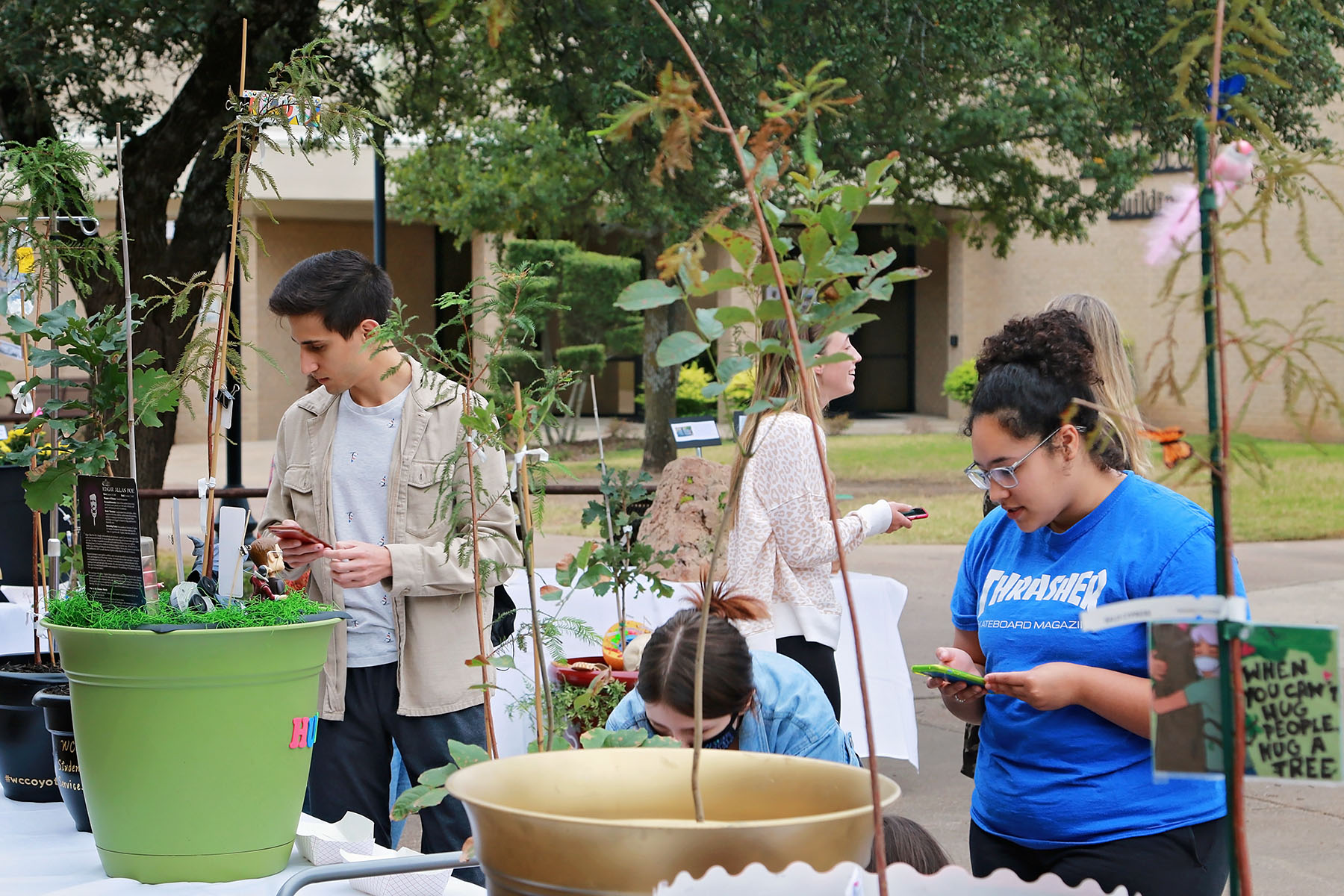 The trees were judged for the first time at the QEP launch party on October 12. Departments across campus showed off their design skills, and voters selected the social science department's tree dressed as "ROOT" Bader Ginsburg the best decorated. A secret judge selected the testing center's "Tree of Knowledge" as their top pick.
Several of the trees also include a QR code to direct students to various resources on campus. A contest giving away an iPad or laptop was held to encourage students to scan the codes and become involved with the QEP.
"Having saplings at resources across campus is a reminder to students of the resources available to them and a literal reminder of our QEP—ROOTS," Edwards said. "Everyone and everything must develop a strong root system in order to grow, and, at WC, our students' roots are resources."