WC solidifies partnership with Tarleton
April 7, 2021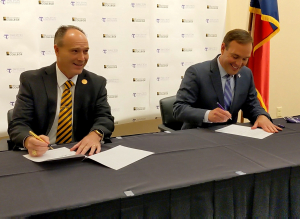 Weatherford College and Tarleton State University signed a memorandum of understanding Wednesday further solidifying the partnership between the two higher education institutions and providing additional financial aid to Weatherford students transferring to the Stephenville university.
WC President Tod Allen Farmer and Tarleton President James Hurley met in WC's Texas Hall located in the Alkek Fine Arts Center to sign the agreement.
The MOU allows all WC students with a minimum 3.0 grade point average to transfer to Tarleton and receive additional funds through Tarleton's Transfer Guaranteed Award (T-GAP) Program based on their GPA and number of hours enrolled.
Full-time students from WC (those taking 12 or more hours) will receive $500 above the T-GAP level for which they qualify, $375 for nine to 11 credit hours and $250 for six to eight credit hours. Scholarships range in value from $500 to $2,000 based on the student's GPA and number of hours enrolled. T-GAP eligibility criteria and awards levels can be found at tarletonstate.us/t-gap.
Tarleton will waive the admission application fee for students with financial need, and the two institutions will jointly administer financial aid. Tarleton will also alert WC staff of scholarship opportunities available to WC students as they become available.
"As a graduate of both Weatherford College and Tarleton State University, today is a very special day for me," Farmer said. "This agreement between our two noble institutions will further strengthen our historical ties by providing tens of thousands of dollars in transfer student scholarships in the short run and hundreds of thousands of dollars in student scholarships in the long run."