WC president recognized with international award from Phi Theta Kappa
March 10, 2021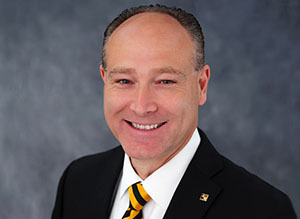 Phi Theta Kappa International has recognized Dr. Tod Allen Farmer, Weatherford College president, with the 2021 Paragon President Award.
This award is presented to new college presidents who have shown strong support of student success by recognizing academic achievement, leadership and service among high-achieving students at their college.
Phi Theta Kappa is the international honor society for two-year colleges.
"While you were nominated for this award by the highest-achieving students on your campus, this award is really about your commitment to the success of all students," wrote Dr. Lynn Tincher-Ladner, international president and CEO of Phi Theta Kappa. "They know you are working hard to provide them more opportunities and stronger pathways to completion, transfer and employment—even amid a global pandemic."
Farmer, an alumnus of WC and its Phi Chapter, said membership in the honor society forever changed his thinking.
"Despite working long hours in multiple jobs as a student, I challenged myself to make the high grades necessary to gain admittance to PTK," he said. "When I successfully accomplished that lofty goal, I realized for the first time that I was capable of accomplishing difficult goals. Phi Theta Kappa was an important part of my college experience, and I am honored and humbled to be a recipient of this award."
His twin daughters, wife and father-in-law are also all members of WC's Phi Chapter.
Shantee Siebuhr, Phi Chapter's advisor, said Farmer's history with WC and Phi Theta Kappa is inspiring to the students.
"For them to see that President Farmer was once a Weatherford College student, inducted into Phi Chapter and now works to make sure that students have the support they need to become who they want to – it's a fantastic success story of how Phi Theta Kappa and Weatherford College change lives," Siebuhr said.
"Not every Phi Theta Kappa chapter has such a passionate champion in their corner. We are beyond thankful that President Farmer understands just how empowered a student can feel knowing who is behind them, helping them succeed."
Farmer will be recognized during the honor society's virtual convention, PTK Catalyst, on Friday, April 9.
WC's Phi Chapter, founded in 1929, is the oldest chapter west of the Mississippi River.