WC presents "The Hunchback of Notre Dame"
October 11, 2021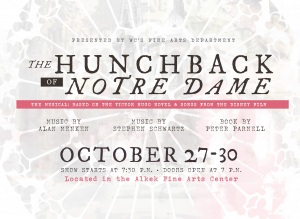 Weatherford College fine arts presents the musical production "The Hunchback of Notre Dame" Oct. 27-30 in the Alkek Fine Arts Center with showtimes at 7:30 p.m. each day. Doors open at 7 p.m. and admission to the is free.
Based on the Victor Hugo novel and featuring songs from the Disney film, "The Hunchback of Notre Dame" is a heart-rending story that involves many complex characters, but at the center is Quasimodo, the misshapen and deformed bell ringer of Notre Dame cathedral. When Esmeralda, a traveling gypsy dancer, shows him true acceptance and friendship, he undergoes a transformation that sets his relationship with his world spiraling into an intrinsic change that cannot be reversed.
WC's production is directed by James Brownlee and stars Aidan Endy as Quasimodo and Audrey Randall as Esmerelda.
"I chose to do this musical because it deals with the adversity that people who are different often experience," Brownlee said. "In a world of distrust and with prejudice of all kinds, it was important to me that we acknowledge the humanity of all. That goodness is found where we don't expect it, and that evil is likewise found in some of our most trusted institutions and representatives."
Victor Hugo's masterpiece is revealed in its full glory in this musical adaptation with music by Alan Menken and Stephen Schwartz and book by Peter Parnell.
Please also note that although this musical contains some of the songs from the feature-length Disney cartoon, it is not a children's show and has a much darker overall tone.