WC hosts 19th annual Coyote Area Math Championship
February 9, 2021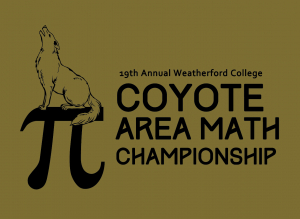 Students from area high schools converged on the Weatherford College campus Friday, Feb. 5, for the 19th annual Coyote Area Math Championship to compete in pre-calculus and calculus competitions via written tests.
Normally attended by more than a dozen schools, this year's event was smaller due to COVID-19 restriction facings many schools. Weatherford, Peaster, Mineral Wells and Alvord high schools participated along with Trinity Christian Academy.
"In the 19 years of hosting the competition, the contest has never been canceled," said Shirley Brown, WC math department chair. "It was delayed two weeks one year because of icy roads. We have had to deal with rainstorms, flooded parking lots, falling snow, a gas leak on campus, freezing temperatures and other disruptions over the 19 years. Now we can add COVID to the list."
Event organizers plan to rename the contest next year in honor of Pat Cook, the retired math department chair who began the contest and recently passed away.
Winners of the 2021 Coyote Area Math Championship are:
Team Results: Calculus

| | | |
| --- | --- | --- |
| | | |
| 1st Place: Trinity Christian Academy – Emma Bayles, Colton Bevering, Jack Sims, Reese Carlson | 2nd Place: Weatherford High School – Michaela Bosco, Jaycob Craft, Aly Ligon, Mady Wolfsen | 3rd Place: Mineral Wells High School – Caleb Clark, Madison Robinson, Tjorve Schaur |
Team Results: Pre-Calculus
| | | |
| --- | --- | --- |
| | | |
| 1st Place: Trinity Christian Academy – Paige Bull, Charlotte Floyd, Stephen Lipsky, Katherine White | 2nd Place: Weatherford High School – Diana Antonio, Matthew Bednarz, Morgan Peterson, Cheyenne Pinkerton | 3rd Place: Mineral Wells High School – Vanessa Garcia, Carson Huseman, Emily Myrick, Celeste Santibanez |
Individual Results

Calculus

Pre-Calculus

1st Place: Emma Bayles – Trinity Christian Academy

2nd Place: Reexe Carlson – Trinity Christian Academy

3rd Place: Colton Bevering – Trinity Christian Academy

4th Place: Jack Sims – Trinity Christian Academy

5th Place: Caleb Clark – Mineral Wells High School

1st Place: Katherine White – Trinity Christian Academy

2nd Place: Charlotte Floyd – Trinity Christian Academy

3rd Place: Timothy Carzine – Mineral Wells High School

4th Place: Carson Huseman – Mineral Wells High School

5th Place: Tucker Abbott – Alvord High School