WC honors outstanding alumni
April 16, 2021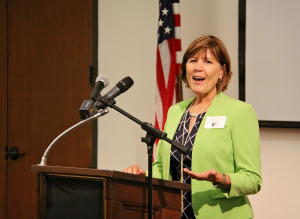 Weatherford College recognized three alumni during the annual Alumni Awards Luncheon on Friday, April 16, at the Doss Heritage and Culture Center.
Dan Carney and Jessica Cundiff were both recognized as Distinguished Alumni, and Sharon Hayes received the Alumnus of the Year award.
Tiffany Hayes Christmas, Hayes' daughter and a teacher at Hall Middle School, introduced her as an amazing woman and outstanding leader.
"She inspires people to be their best and to challenge themselves," Christmas said. "Most of us who are fortunate enough to know her personally are fully aware that she's a rare combination of leadership, intelligence, loyalty and humility. She makes everyone around her feel heard and valued."
Hayes worked for Tandy Corporation for 10 years following her graduation from Springtown High School and decided to forgo college at the time.
"When my parents talked to me as a teenager about going to college, I really had no interest in doing that," Hayes said. "I was in a hurry to get started, and that's exactly what I did. I went to work, had a family, all those things."
Once she reached a point in her career, Hayes realized she needed a higher education to continue advancing, so she returned to the classroom, mainly taking night classes from the late 1970s until the mid- 1980s.
"I was absolutely enthralled in every class I took," Hayes said. "The quality of the professors, the subject matter. Every class I took opened new horizons, made me want to do more and more. Then it got to the point where I didn't know what I wanted to be when I 'grew up' because every time I took a class, my mind horizon expanded."
She wanted more than a paycheck; she wanted a career that mattered. And she found that in Dr. Nelson Rand's biology class.
"He talked about water pollution and the impact it had on families, and it just really clicked," Hayes said. "It resonated. I knew that's what I was going to do."
After WC, Hayes continued the study of science and pursued a career managing water for municipalities.
She went on to obtain a Bachelor of Science degree from Tarleton State University and a Master of Science in environmental science from TCU as well as a Master of Public Administration from the University of North Texas.
In the year following her graduation from WC, James Dickason hired Hayes to work for the City of Weatherford. And in 2019, she retired after a 34-year career which saw her rise through the ranks, ultimately serving as city manager.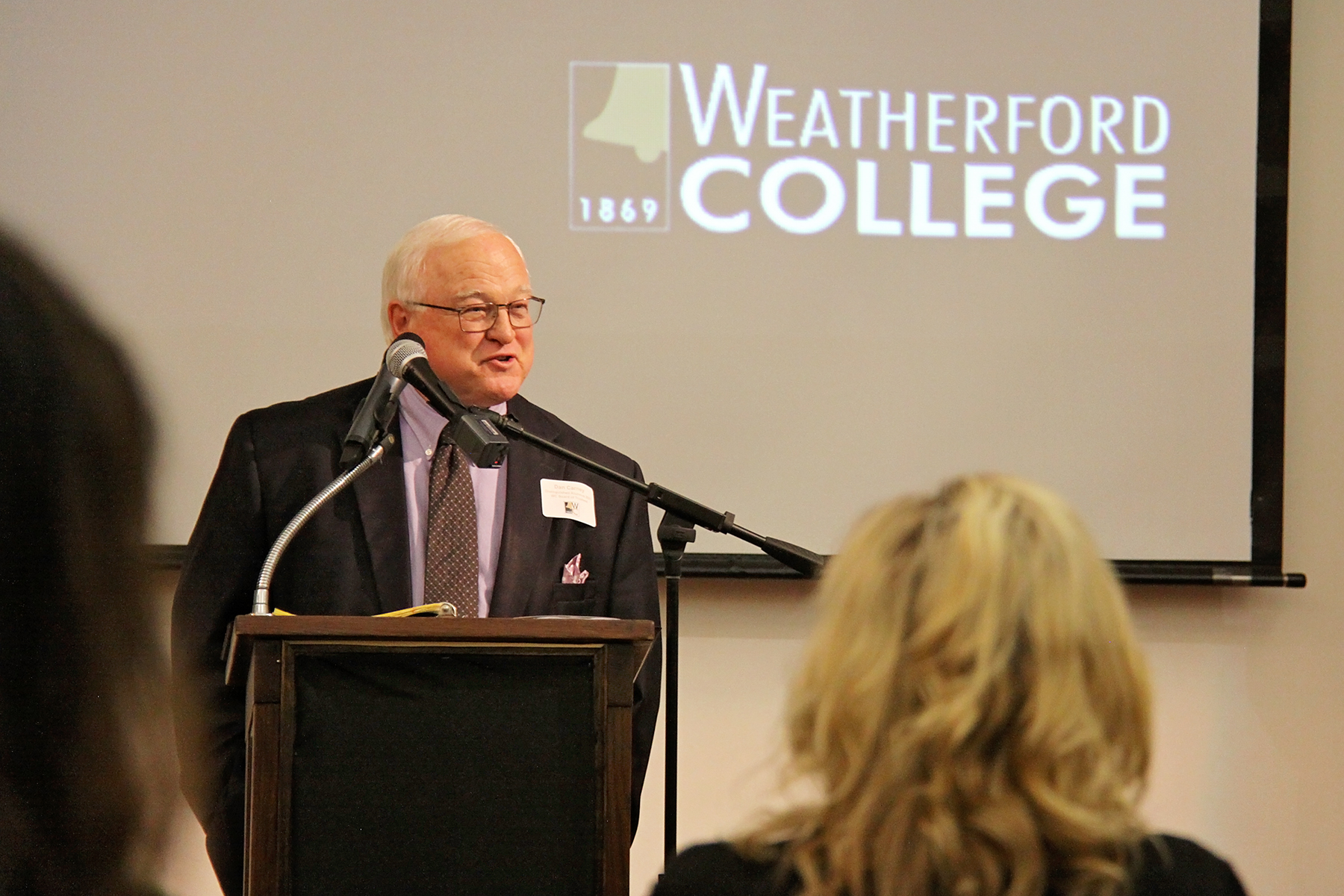 Carney, a 1973 graduate and current member of the WC Board of Trustees, is one of many in his family to call WC their alma mater. Both of his parents attended, as did his two brothers and, most recently, his granddaughter.
After attending WC, Carney received his Bachelor of Business Administration degree from the University of North Texas followed by his Doctor of Jurisprudence from Texas Tech University School of Law.
During his first summer in law school he interned with Mac Smith, who was Parker County District Attorney at the time and is now chair of the WC Board of Trustees.
"The thing you learn about Dan very quickly is he operates only at high speed," Smith said, introducing Carney during the award ceremony. "…It was obvious he had an unusual talent, drive and huge potential."
Carney's law career spans more than 40 years, including a partnership in the Vick Carney law firm. He is past president of the Parker County Bar Association and a fellow with the Texas Bar Association.
"Whatever successes I've had are all directly traceable back to Weatherford College," Carney said. "It taught that long-haired, rock band farm boy, who had kind of a free spirit back in the day–it taught him to have some responsibility in the world and in this community."
He spoke about the importance of relationships and how many of the significant relationships in his life began at or because of WC. He specifically recalled history professor Bill Coody.
"That guy inspired me," Carney said. "I went to his classes and listened to him bounce off the walls, and he got me motivated. … For me, Weatherford College was the pinnacle point for so many great friendships and so many great memories."
Cundiff, a curatorial associate at the Department of Invertebrate Paleontology at the Museum of Comparative Zoology at Harvard University, could not attend the awards ceremony but sent in a video acceptance.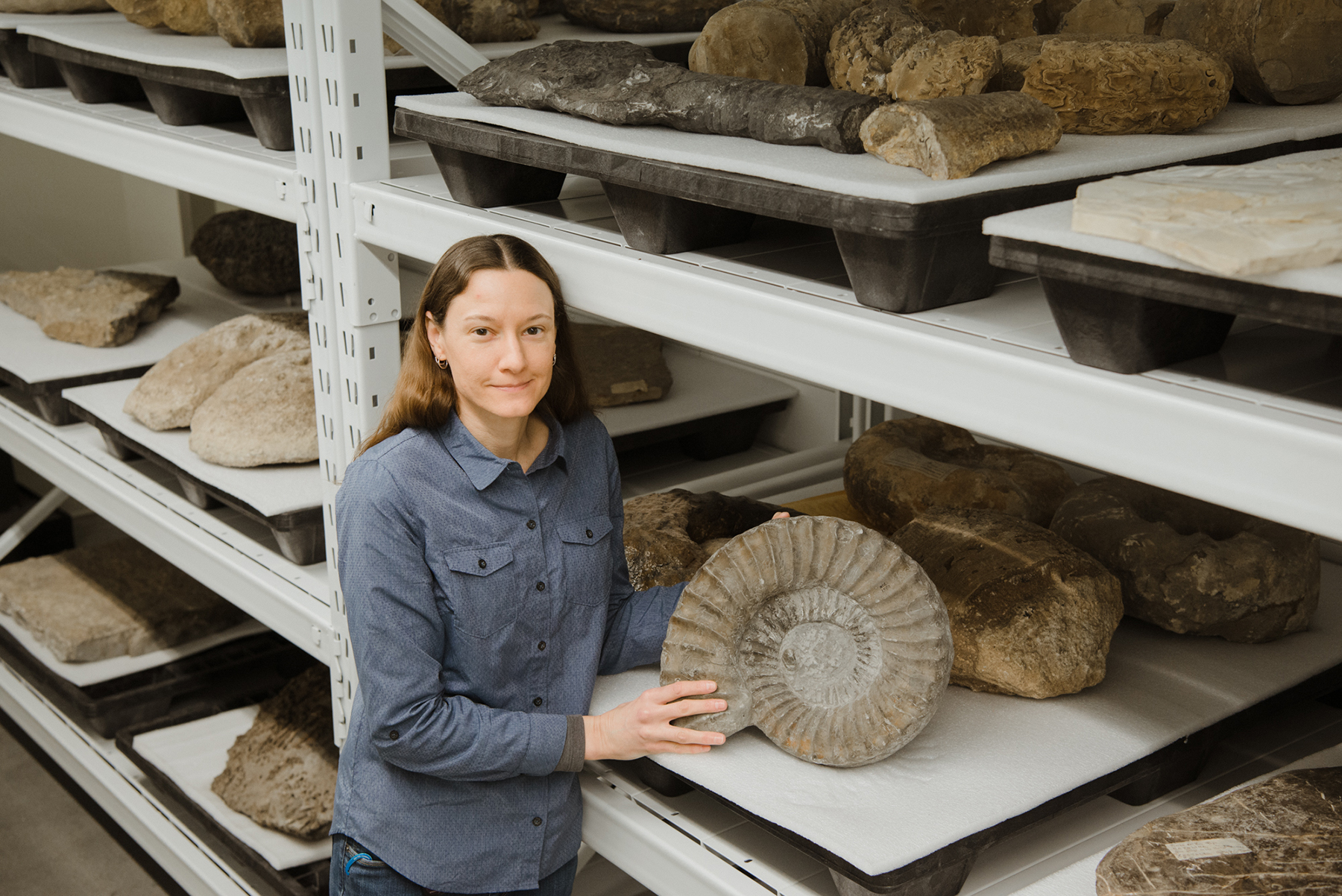 Cundiff is a 1995 graduate of WC who found her way from her hometown of Hermann, Missouri, to Texas to play basketball thanks to her aunt, Betty Jo Graber.
She said WC provided her the opportunity to achieve her dream of playing college basketball and laid the academic foundation for her to become a paleontologist.
"My experience at Weatherford college also expanded my worldview, with having teammates from different parts of the world," Cundiff said. "I made lifelong bonds with those ladies and still keep in touch with many of them today. I am very proud to be a Weatherford College alum. And no, without that first step, I would not have achieved what was to come."
While at WC, her grades earned her a spot in the Phi Theta Kappa national honor society and into Who's Who Among Students in American Junior Colleges.
She thanked her instructors at WC, who she said set the bar high for the classroom experience, with a special thanks to Coach Bob McKinley for helping her see her greatest strengths were in the classroom and strongly encouraged her to take public speaking.
"I was mortified by the thought of having to stand up in front of the class and speak, but Coach would not let me out of that one," she said. "Turns out it was one of the most beneficial classes I took at Weatherford College. I reflect on that every time I give a talk at a professional conference, give a tour for a large group, and as I prepared this speech. Thanks, Coach. You clearly knew that was one of the tools I would need in the future."
Cundiff continued her education at Missouri State University studying geology. After completing her master's degree in 2000, she moved to Massachusetts where she also completed a Master of Liberal Arts in Museum Studies at Harvard.
"I didn't realize we had someone here that would eventually be at that level—working at Harvard," McKinley said. "She's surpassed all of my expectations. … Jessica exemplified what a student-athlete is supposed to be about."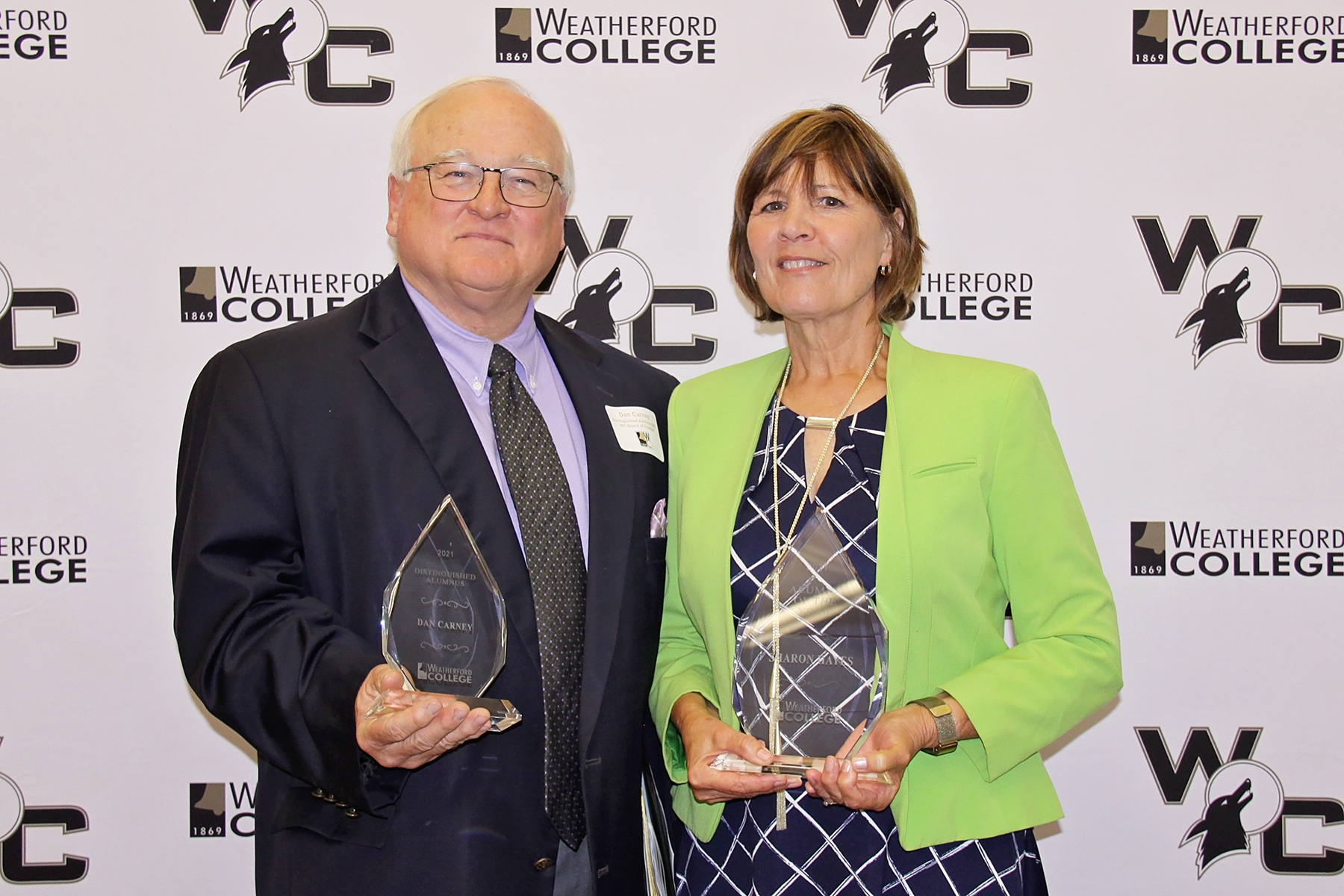 Dan Carney and Sharon Hayes