WC honor society chapter presented myriad of awards at state convention
March 23, 2021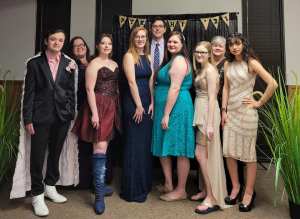 For the second year in a row members of Weatherford College's chapter of the Phi Theta Kappa honor society attended the state convention remotely. And like in so many past years, their collective hard work was rewarded with many accolades.
To mimic the feel of an in-person convention and to promote fellowship among chapter members, WC's Phi Chapter held a lock-in on campus where students were able to participate in team building activities, compete in a scavenger hunt and create an award ceremony experience.
"Our students are high achieving. They love to focus on their academics, but we want to invest in the whole student—not just academics," said Shantee Siebuhr, Phi Chapter advisor. "So, providing these opportunities to learn, grow and experience new events with their peers allows engagement at a whole new level."
The chapter received the College Project Merit Award for instructional videos created for students to learn the new Coyote Connect system.
Michael Samuels was added to the Texas Member Hall of Honor, an award bestowed on those who go above and beyond other Phi Theta Kappa students.
"Michael was only inducted in the summer of 2020 but jumped in feet first to lend a hand wherever needed," Siebuhr said. "He was eager to support the other members and he brought just a little extra sparkle to everything we did."
Also, the chapter's Honors in Action Topic 3 for "Sustainable Living — How to Get Started" was awarded Best Honors in Action submission out of all 92 Texas chapters for this topic.
Siebuhr was presented with an Advisor Horizon Award, a recognition for advisors who guide their chapters to new levels.
WC President Tod Allen Farmer was awarded the Paragon President Award for his dedication and support to Phi Theta Kappa.
And once again, Phi Chapter was named a Texas Top Chapter, this year ranking 13 out of 92 active chapters, moving up from spot 16 last year.
"It is an incredible feeling to work with amazing students," Siebuhr said. "Each year we climb the ranks of Texas Top Chapters, and I am continuously impressed by our students' work ethic and enthusiasm to do their absolute best in all they take on. As the oldest active chapter in Texas, eyes look to us often to set a good example and to lead with pride, and our students do not disappoint."