WC hires Leatu as women's tennis coach
May 7, 2021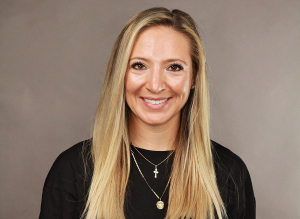 Alex Leatu is officially Weatherford College's new women's tennis coach, and she's ready to create the team from the ground up.
"I'm here to create a team that loves like a family and works like a championship depends on every detail, representing Weatherford College proudly, on every occasion," she said.
Leatu served as head coach for the NCAA Division I program at Georgia State University from June 2018 through this past April. Before that, she coached at the University of New Haven.
"I didn't plan to leave Georgia State and coaching a DI program, but when this opportunity at Weatherford College knocked on my door, I knew it was time to move on," Leatu said. "I couldn't let it pass me by."
Before her coaching career, Leatu played collegiate tennis at both Baylor University and Vanderbilt University.
Her tennis career began at age 8. She ranked in the top ten in the USTA 14, 16 and 18 and under, won three national titles in singles and three in doubles, two silver balls in USTA doubles play and a bronze ball in USTA singles. Leatu also won two ITF Grade 3 tournaments.
While at Vanderbilt, Leatu earned Second Team All-SEC honors and was named to the SEC All-Tournament team. She played number one singles and number one doubles as a freshman and ranked as a top 75 player by the ITA.
She then transferred to Baylor University, where she was a three-time Big 12 Conference Champion, and Baylor reached a top-15 team rating with Leatu on the team.
Now, she's glad to be in a part of Texas she calls home and to wear the many hats that come with being a head coach.
"As a head coach, you're a parent figure, a friend, a therapist, a mentor, and sometimes, just a really good listener," Leatu said. "Being a head coach is understanding that wearing all of these hats, being consistently optimistic through good times and bad, and never letting your standards drop are ultimately how you achieve success with your unit, your team, your family."
Women's tennis returns to the WC athletic lineup this fall.