WC Board introduced to ROOTS quality enhancement plan
September 9, 2021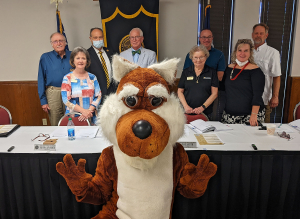 Weatherford College's mascot, Champ, visited the WC Board of Trustees during their board meeting Thursday afternoon as they were introduced to the college's new quality enhancement plan.
Resources Open Opportunities to Students (ROOTS) is a five-year plan to increase student awareness and use of various resources on campus to help them achieve academic success. It is also part of the college's reaffirmation of accreditation that takes place once every 10 years with the Southern Association of Colleges and Schools Commission on Colleges.
Dr. Arleen Atkins, dean of institutional effectiveness, and her team have worked on this process for nearly a year. They submitted the first documents to start the process on March 1 and sent their last updates on the evening of Friday, Sept. 3.
Atkins said the SACSCOC review board found nothing out of compliance in their off-site review, which means their on-campus visit Oct. 25-28 will focus more on the QEP and its implementation.
The central hub to ROOTS is a classroom in Canvas, the college's online learning portal, where students can see how to access tutoring, the Coyote Clinic, clubs and organizations, and more.
ROOTS works with students to plant, root and rise to success. Students apply, complete a career assessment, attend orientation, meet with their advisor and register for classes in the plant phase. As they root, they become engaged with student clubs and organizations, meet with faculty and community mentors and explore career pathways. In the final stage, grow, they prepare to continue their education or embark upon a new career.
During the five-year implementation of ROOTS, data collection will show how many resources students access. Traci McKinley, QEP director, said the goal is to have 90 percent of first-time college students and 70 percent of all students access the ROOTS Canvas classroom.
Learn more about ROOTS at https://youtu.be/sKAMIRtDYc4.
In other business, the board:
Approved the minutes of the August 2021 board meetings.
Approved the financial reports ending Aug. 31.
Approved the quarterly investment report.
Approved the renewal of videography and video production services.
Approved a Department of Information Resources contract for network equipment and services in the new Emerging Technologies and Workforce Building.
Approved a contract proposal on smart classroom equipment and services for Zoom capabilities.
Approved a contract for electronic access controls and security cameras.
Approved a contract on HVAC replacement and an indoor air quality project for the main campus.
Authorized the college to proceed with the proposal of a new Associate of Applied Science degree and certificate program in automation and robotics.
Authorized the college to proceed with the proposal of a new Bachelor of Applied Science degree in early childhood education and teaching.
Received an academics and student services update.
Ratified a purchase/sale agreement and two lease agreements for the potential purchase of a radio station, pending approval from the Federal Communications Commission.
In his president's report, Dr. Tod Allen Farmer:
Congratulated the Student Life department on a successful Welcome Week and expressed appreciation to the event sponsors.
Announced the Veterinary Technology program is filled to capacity as it starts its second year.
Announced that WC Foundation Vice President Nancy Stuart will throw out the first pitch at Weatherford College Night at Globe Life Field next Thursday.
Announced the retirements of Angela Atkins, dual credit specialist, and Mary Kathy Williams, Academic Support Center lab specialist, and the resignations of Kim Kelley, campus police department secretary, and Stephen Malley, public safety director and instructor.
Announced the 2021 Fall enrollment sits at 5,468 students compared to 5,467 last fall and schedule credit hours, the total number of hours taken by WC students, have increased from 48,970 to 49,033.