WC associate professor of history presents at national conference
January 25, 2021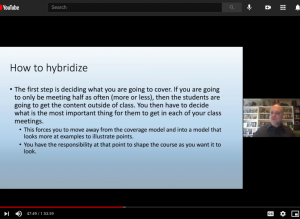 Scott Williams, Weatherford College associate professor of history, recently presented at the online American Historical Associate Conference.
The session, "Online Learning via the Digital Humanities, the Online Classroom, and the Hybrid Classroom," focused on creative assignments for engaging students in the online and hybrid classroom.
Williams was one of four presenters from community colleges drawing on their experience to discuss questions of accessibility, teaching historical thinking in an online course, using digital humanities in face-to-face classes and how to hybridize an introductory history course.
The AHA Conference is one of the two most prestigious conferences for historians in the U.S.; the other being the Organization of American Historians, said Dr. Scott Tarnowieckyi, WC social sciences chair.
"Only the best of the best even have a chance of getting their paper proposals accepted," Tarnowieckyi said. "I can't say how impressed and proud I am of Professor Williams. His hard work and dedication to innovative college teaching techniques is second to none and his participation of this panel at this caliber of an academic conference is a demonstration of this."
Williams' presentation is available to view at https://youtu.be/uv0CEIYyVxs?t=2544.