WC Alumni Rodeo planned for Saturday
October 13, 2021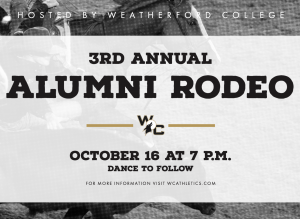 The third annual Weatherford College Alumni Rodeo is Saturday, Oct. 16, at 7 p.m. at the Parker County Sheriff's Posse Grounds, and organizers expect top-notch talent.
"We have at least half a dozen former WC athletes who are in the PRCA top 50 that will compete Saturday," said Johnny Emmons, WC head rodeo coach. "With our current students and our alumni from the last several years, this will be as good a rodeo as you'll see."
The one-night rodeo will feature traditional events including bull riding, barrel racing, team roping, steer wrestling and more. Entries include current and former WC students and their immediate families.
Emmons began the alumni rodeo in 2019 during WC's 150th anniversary. The event was a hit, and Emmons and the booster club decided to make it an annual rodeo.
The Mike Brown Memorial Buckle will be awarded to the high point timed event cowboy and cowgirl.
WC rodeo alumnus Rowdy Decker will entertain at a post-rodeo dance.
Tickets are available at the door. Admission is $10 for the rodeo and dance—kids under 12 are free.
For more information, email Emmons at jemmons@wc.edu.