Tyler wins HS state title, graduates from college in the same week
May 18, 2021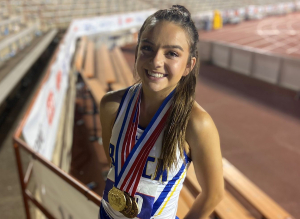 Torrye Tyler does not waste time. Whether it's winning a race on the track or getting her education, she knows how to get it done faster than most other people.
On May 6 she won the Class 3A state championship in the 800-meter run for Brock High School, posting a personal-record time of 2 minutes and 18 seconds. In addition, she placed third in the 400 dash with a time of 57.46 and was part of the third-place 1600 relay that clocked a 3:57.54.
Then, two days after winning the gold medal in Austin, she put on her cap and gown…not for her high school graduation, but her college commencement.
Tyler earned her associate's degree from Weatherford College, thanks to the college's dual credit arrangement with the Brock ISD. As a matter of fact, she participated in the WC Commencement ceremony before her Brock High School graduation ceremony.
Now the plan is to attend Texas Tech University on a track scholarship.
"Being able to say I am a state champion is something I have dreamt of since I was a little kid. Just knowing that all the hard work and dedication, along with the sacrifices I made paid off is such an awesome feeling," Tyler said. "It only makes me more hungry and eager to get back to training to see what else I can accomplish. Being able to stand on that podium getting those medals hung around my neck is something I will never forget."
Tyler holds BHS school records in the 400 meter dash (56.52) and the 200 (25.5), and the time for the 1600 relay at state is also a school record.
"Holding those records and being able to have my name attached to them in our school history makes me so happy. I broke the school record in the 400 my freshman year, and so with that it was just a goal to break it every year to follow, and I did just that," she said. "The other records just came as a bonus. I am really proud of the 400 record because that is the race that made me love track so much, and I hope it will stand at the school for a very long time."
Tyler comes from quite the athletic family. Her mother, Staci, who works at Weatherford College, was a multi-sport standout at Brock, and her father, Matt Tyler, was a professional team roper who qualified for the National Finals Rodeo 21 consecutive years.
Her older sister, Mattye, was a standout softball player at Brock and Weatherford College before going on to play for Midwestern State, from which she recently graduated.
"Having an older sister who was so successful in her athletic career can be very intimidating, but I was able to take so much from watching her journey," Torrye said. "The way she carried herself as a competitor and left everything she had on the field was something that I really loved and took from my sister. She left really big shoes for me to fill at Brock, and I took the legacy of the Tylers very seriously. She taught me no matter the outcome, leave all you have to your sport and program.
"People always ask me where I got my speed from, and I honestly have no idea, but I do know that I inherited my competitive nature and determination to win from my parents."
Her grandfather also left quite a legacy. The late Mike Brown was a longtime agriculture instructor for WC and, together with current coach Johnny Emmons, built the school's rodeo program into one of the best in the nation.
"My grandad was someone who I had a very close and special relationship with, one that I will never have with anyone else. He was always a huge supporter of me and my siblings, and was always at everything we did," Torrye recalled. "He passed away when I was in the seventh grade and never got to watch me run a track meet.
By Rick Mauch
"Having to know that he never got to witness my gift that God blessed me with in person is something that makes me sad to think about. But I know that he knows what I have accomplished and has watched all I have done in the years he hasn't been with us."
Torrye also played basketball up until her senior year. She helped the Lady Eagles reach the regional tournament in her sophomore and junior years while receiving many district, area, county and state accolades as one of the team's top players.
"I made a very difficult decision to walk away from the sport that I had played since I was able to walk so that I could accomplish what I wanted in the sport that I truly loved, track," she said.
With her mother working at Weatherford College and the school having a dual credit arrangement with Brock, Torrye said she couldn't pass up an "amazing" opportunity to complete her core classes while still in high school.
"I was able to really figure out what I was interested in while doing so, and now with going to Tech I will be able to focus on more major specific classes. Not only that, but I will also be able to start my master's and still be able to run track," she said.
She plans on majoring in biology at Tech so she can someday become a pharmacist.
"The medical field is something that has always intrigued me, but what I like about pharmaceuticals is I can still help people but not have to see stuff first hand," she said with a smile.
And just as she is proud to say she was an Eagle and a Coyote, she looks forward to being able to now call herself a Red Raider.
"I grew up going to Tech basketball games to watch one of our really close family friends, Jordan Murphree, play," she said. "Along with that I have trained with former Red Raider and Olympian Jonathan Johnson for the past five years. He always talked about Tech and Coach (Wes) Kittley all the time, and it just made me so determined to one day run for him, too.
"After my first phone call with Coach Kittley I knew that Texas Tech was where I wanted to be. I honestly do not think I can put exactly into words how excited I am to be able to run in that scarlet and black."