"The Three Billy Goats Gruff" takes the stage for young audience
July 12, 2021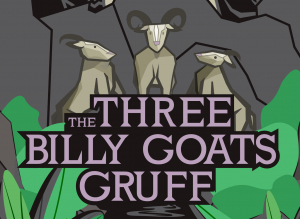 Weatherford College Summer Stage presents "The Three Billy Goats Gruff" the last two weekends in July in the Alkek Fine Arts Center.
This production is geared specifically for a young audience and has a short runtime. Children will enjoy the classic Norwegian tale of three young goats in search of a new food supply who come across a lonely troll and make a new friend.
Shows are 10 a.m. on Saturdays, July 24 and 31 and 1 p.m. on Sundays, July 25 and Aug. 1. Admission is free and doors open a half-hour prior to showtime.
"Once Upon a Time Theatre is one of three branches of our Summer Stage Program, and what it endeavors to do is bring quality children's theatre to Parker County, free of charge," said director James Brownlee. "As educators, we love introducing children to the magic of live storytelling and hope to give them an experience that will always stay with them."