New WC songwriting class teaching the finer points of expression
May 4, 2021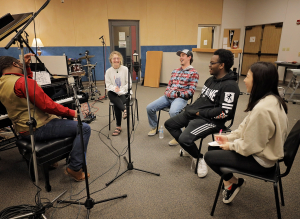 Kiki Dee once sang, "I've got the music in me."
Weatherford College Director of Jazz Studies Fredrick Sanders understands that feeling very well—and now he's looking for students with that same feeling.
Sanders, renowned for his piano playing skills and leading the Weatherford College Jazz Orchestra, has now started a songwriting class. And who knows? The next Bernie Taupin or Norah Jones might be among his students.
"Songwriting is the most current way people learn how to tell stories," Sanders said. "It's a way to pass down their heritage."
Sanders noted that songwriting composition is among the most vital tools a student can have in developing communication, leadership skills and in-depth personal awareness.
"Over the last 20 years, I've taught these elements in all my piano lessons," he said. "My goal has always been to teach them the responsibility of self-awareness and self-government, and composition has always been the greatest tool for that."
Sanders said the class, which started this spring both in-person and virtually, has students who are "disciplined and focused. We're excited about their endeavors and what they are learning. It's becoming contagious, things they are writing and their approach."
Sanders said the class is an excellent addition to WC's strong history in music education, as evidenced in their jazz studies.
"This is a way for us to continue to develop our young minds and creativity," he said. "Here in our state, there are not a lot of opportunities for young writers to develop fundamental skills they need and habits to improve on those studies, so it's great that we have that here at our school."
Writing a song is more than putting some rhyming words down on paper, Sanders said.
"Songwriters are not only people who can write words, but people who can set a mood in the environment," he said. "Rhyming is a quality way to create cadence, but storytelling is not always about rhyming."
Not everyone has to be musically inclined to write a song, however. For example, the aforementioned Taupin helped make Elton John a legend with his poetry that John put to music, bringing the world some of the greatest pop songs ever created.
"I make sure I present all the options so they can write words and be able to perform if needed, but some people don't have that type of performance outlet. They feel better with a pen in hand," he said.
And yes, Sanders sees a little bit of himself in his students.
"I see myself in the hopes and dreams that I had as a young man," he said. "I see the boldness in me, the cloudiness in the vision of not knowing sometimes what life has yet to offer."
His students performed their works in a Songwriters Showcase at the Alkek Fine Arts Center in April. In addition, he is producing a collection of the students' work for either a CD or for download.
During the spring semester, the class wrote songs from assigned topics, such as time. Sanders said the students also worked outside of class in such areas as pop, country and western, jazz and even in the style of Broadway.
"Our students are very versatile," he said. "We have a very eclectic class, and I'm excited about that."