New federal funds available to WC students
August 5, 2021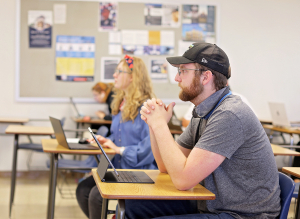 A third round of funding is available for Weatherford College students who have experienced economic hardships due to COVID-19, and with classes starting Aug. 23 the funding has arrived just in time to help students for the fall semester.
WC has received more than $10 million as part of the third round of student aid from the Coronavirus Aid Relief and Economic Security Act (CARES). Approximately half of those funds are for college incurred, COVID-related expenses and $5,261,403 is specifically for student aid.
Full time students, those currently enrolled in a minimum of 12 hours for the semester, are eligible for up to $2,000 of CARES III funds. Part time students are eligible for prorated awards.
"We are incredibly excited about the educational opportunities that these federal funds will bring to our students," said WC President Tod Allen Farmer. "Like many of our good citizens, Weatherford College students have felt the economic impact of the COVID pandemic. Many more students will now have the financial ability to earn employable skill sets."
College administrators estimate approximately 4,500 students qualify for this round of funding. Notices are now going out to student emails on how to apply.
The first round of CARES Act funds were allocated to 1,283 WC students during the Fall 2020 semester. The full $1,273,848 in student funding was disbursed to WC students as of Dec. 8, 2020.
A second round of funding was released during the Spring 2021 semester, known as CARES Act II, and the college received an additional $1,273,848 for students. As of June 22, 1,253 students had received $1,249,500 of those funds.
The college also used CARES funding to wipe out the debt of approximately 300 students, totaling more than $230,000.
Find more information on CARES Act funding at wc.edu/cares.