Gillespie honored with WC Presidential Service Award
September 29, 2021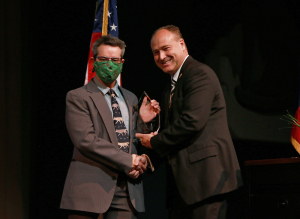 Larry Gillespie was presented with the 2021 Weatherford College Presidential Service Award for his exceptional service on Friday, Sept. 24, by President Tod Allen Farmer during his annual Presidential Address.
"We had so many team members who went above and beyond this year to serve our students and our community," Farmer said. "Ultimately, one individual's sustained service and perpetually positive attitude stood out among all of these amazing people.
"I have never seen Larry display anything other than a positive attitude. What I do see Larry constantly doing is serving others with a cheerful countenance."
Gillespie is a 22-year employee of WC and works as an audio-visual technician. He was operating the event's live stream when Farmer shocked him by announcing him as this year's awardee.
"I thought there could be no way," he said. "Then the next thing I thought was how can I go down to accept the award when I was the one running the livestream (luckily, Josh Sterling was there to cover for me). But the whole time going to the stage and on stage, I thought this couldn't be real, and it didn't fully hit me till I think the next day."
Gillespie is often the go-to for both employees and students when they have technical issues with their computers or mobile devices. His favorite part of his job is helping resolve those issues and seeing the frustration and anxiety melt off people's faces.
"It has been my pleasure to help all of WC's family—faculty, staff and students—throughout the years to see many students grow and be successful," he said. "Some of my greatest joys is getting to see current or former students in their profession, and them not only recognize me but call me by name and mention how the assistance I was able to provide them helped them through their education."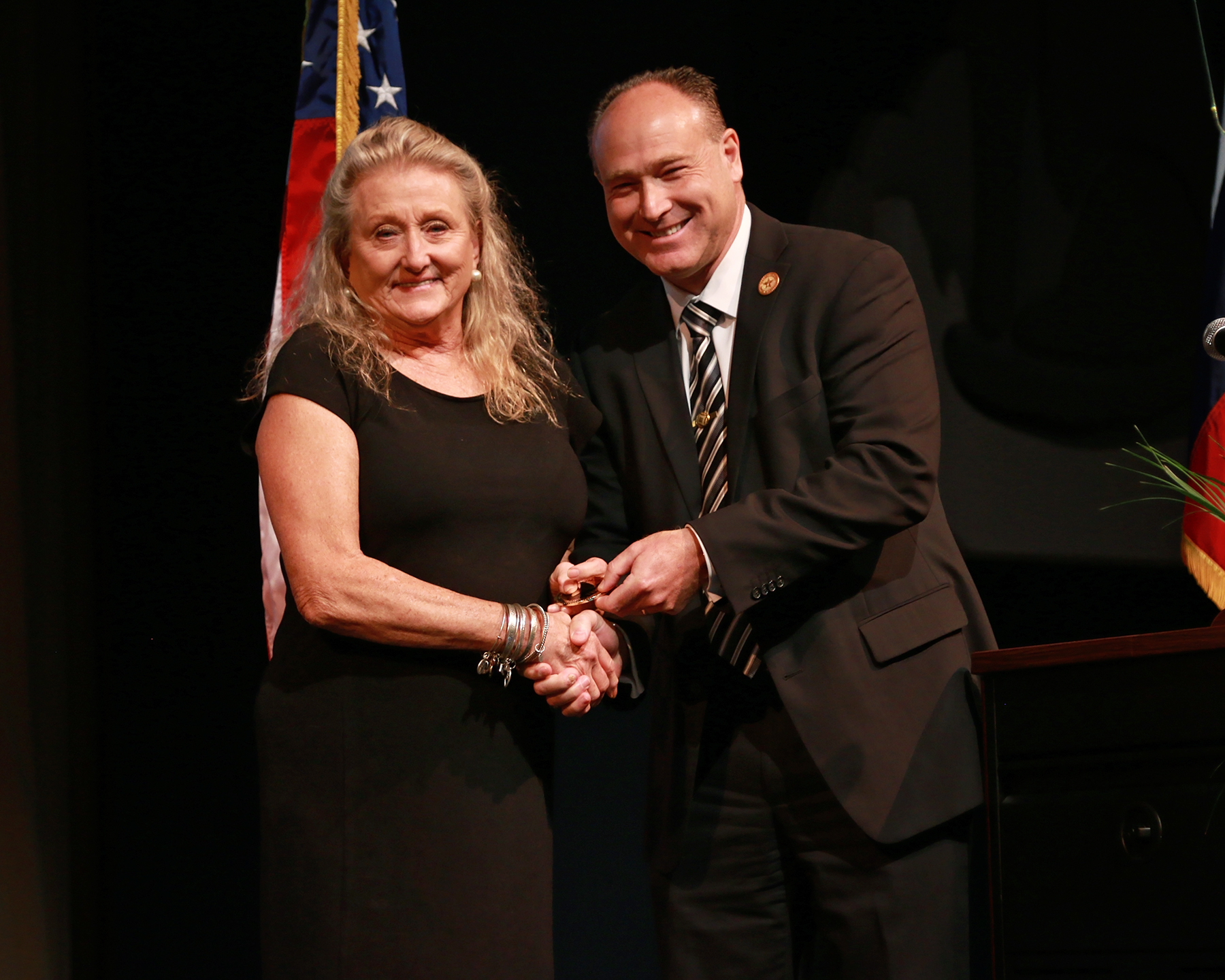 Farmer also presented Kathy Boswell, dean of health and human sciences, with a Presidential Core Value Coin for her consistent demonstration of love for the college.
Boswell, a 41-year employee of WC, was humbled and honored to receive the award.
"I can't think of a better place to work," she said. "It is so inspiring to watch how the college is growing and improving services as well as continually adding programs and opportunities for our students. Weatherford College does change lives."