Fine arts return to Alkek stage
March 24, 2021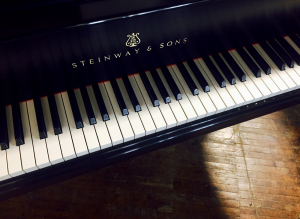 Live fine arts productions at Weatherford College are returning to the Alkek Fine Arts Center in April.
"Students and directors are excited to be able to showcase the talent that our students bring to WC," said Duane Durrett, dean of fine arts. "While they have been busy with the usual demanding rehearsals, recording sessions and practice, they are anxious to once again perform for live audiences. We hope you will enjoy and support the fine arts and our students and honor us with your attendance at these concerts."
Unless otherwise noted, all performances take place at 7:30 p.m. in the Alkek Fine Arts Center with doors opening a half-hour before showtime. Admission is free. Upcoming performances include:
Monday, April 5 – Weatherford College Jazz Orchestra "Family Ties Concert" featuring parents and students in concert. Directed by Fredrick Sanders.
Thursday, April 15, to Saturday, April 17 – WC drama presents "All I Really Need to Know I Learned in Kindergarten" directed by James Brownlee.
Monday, April 19 – Weatherford College Jazz Orchestra presents "Tribute to Jazz Legends" directed by Fredrick Sanders.
Wednesday, April 28 – Chaeeun Lee in concert. Lee is a WC piano major studying with Dr. Hyeyoung Song, WC's master pianist.
Friday, April 30 – Student Art Show and Reception from 5 to 7 p.m. in Texas Hall.
Friday, April 30 – "It's All About the Music" concert featuring guest artists including trombonist Vincent Gardner of the Lincoln Center Jazz Orchestra, vocalist Tatiana Mayfield and others.
Friday, May 7 – Weatherford College Chamber Orchestra featuring Dr. Hyeyoung Song and guest artists.
"We are hopeful that the improving health trend continues, and it allows these shows to go on as scheduled," Durrett said. "We will ask for social distancing and masks at each event."
For current information on fine arts events, check out the calendar located at wc.edu or join the WC Fine Arts group on Facebook.