Experienced leader takes the reins of WC's new BAAS in Organizational Leadership
July 21, 2021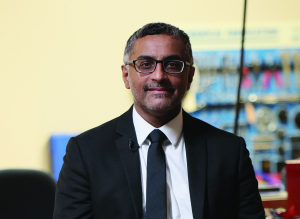 It turns out it's not that far from Washington state to Texas, especially if you take the road of success.
Dr. Philip Mathew took that road to Weatherford College, where he became director of the institution's new Bachelor of Applied Arts and Sciences program in Organizational Leadership in early April. He comes to WC after having launched a similar program at Olympic College, just outside of Seattle.
"Helping start the BAAS in Organizational Leadership and Technical Management for Olympic College in 2015 has been one of the highlights of my career," Mathew said. "It was a great opportunity to serve the students and community in our region as it opened up a pathway for students who have professional/technical backgrounds to continue their studies at the bachelor's level."
Mathew said that adding a two-year management and leadership track on top of a two-year degree serves as the perfect complement to students' technical education and professional expertise.
"Many of our graduates received new jobs and promotions while in the bachelor's program or soon after graduation. Many of them were first-generation college graduates," he said. "The degree, along with their initiative and hard work, opened up new doors and opportunities they never thought possible. Several of them went on to earn master's degrees, and one student was recently accepted to a doctoral program. It has been wonderful to see the transformative power of education."
He said starting a new bachelor's degree program is a team effort.
"You can't do it alone. You must have visible support from the very top of the college, including the president, board of trustees and administration," he said. "Furthermore, you need the support of the deans, faculty, staff, students and community. All of these are clearly in place at Weatherford College, which makes me excited to embrace this opportunity."
Before coming to Weatherford College, Mathew served as a tenured Organizational Leadership and Resource Management professor at Olympic College for 10 years. He was the founding faculty for the school's Bachelor of Applied Science in Organizational Leadership and Technical Management and a full-time faculty member in OC's associate degree program in Organizational Leadership and Resource Management.
The bachelor's program has enjoyed tremendous success, with eight cohorts since its inception, along with a more than 90 percent retention rate.
Mathew also recently released a book on servant leadership titled "Global Servant-Leadership: Wisdom, Love and Legitimate Power in the Age of Chaos," published through Lexington Press.
"I served as first editor and contributor along with my wonderful colleagues. The book features international perspectives on servant leadership through a series of case studies, cutting edge research and essays from more than two dozen contributors from a number of countries and contexts, including Brazil, Canada, China, India, Kenya, Saudi Arabia, Tanzania, Turkey, South Africa, Spain and the Ktunaxa Nation in the United States," Mathew said.
Mathew earned his Ph.D. in leadership studies from Gonzaga University. His doctoral dissertation investigated resilience and leadership through an analysis of the life of Holocaust survivor Dr. Viktor Frankl. His dissertation is in the United States Holocaust Memorial Museum.
He also holds a master's degree in counseling and a certificate in leadership and negotiation from Harvard Law School's Program on Negotiation.
Before his work at Olympic College, he was a lecturer in Whitworth University's bachelor's program in psychology and master's program in counseling. He also worked as a licensed mental health therapist in Washington state. In addition, he is a member of the editorial review board for the International Journal of Servant-Leadership and the Journal of Leadership Studies, where he regularly reviews and evaluates academic journal articles before publication.
Mathew is no stranger to North Texas, as he has family in Fort Worth and Carrollton. He was raised in the Pacific Northwest and jokingly said he's happy to get to a place where the climate is a "bit dryer." The friendly folks in the south and WC's long tradition of success were also factors in the move.
"Southern hospitality is something special, and I'm grateful for the opportunity to live, work and raise a family in a community that is so welcoming," he said. "Moving across the country is a big decision and a step of faith, especially with a young family. When I saw this job opportunity, I was amazed at how well it aligned with my experience in launching a bachelor's program and my work as a professor."
Mathew is a big believer in taking career experience into consideration concerning degrees.
"Work experience is beneficial in a couple of ways. First, in a classroom setting, students can step back and reflect on their job experiences. Through focused reading, activities and class discussions, they can make sense of their experiences, understand workplace dynamics and formulate strategies to become better team members and leaders," he said. "Secondly, in my classes, I encourage students to do what they're learning—actively put the strategies and tools they're learning in class to work. Then we can talk about what they've learned—it's an exciting process."
Mathew said what helped confirm his decision to join WC was the leadership at the college. He called President Tod Allen Farmer's forward-looking vision for the college inspiring and energizing.
"It's something I knew I wanted to be a part of. His Presidential Core Values of faith, hope and love resonate with me on a personal level as well," he said. "Along with that, the warm welcome and support I've received from Vice President Mike Endy and Dean Janetta Kruse really confirmed that this was the right decision.
Mathew's to-do list is long as the new program gets off the ground. Developing curriculum, building classes, meeting accreditation requirements and other tasks will keep him busy, as his team works with college and community stakeholders to build a quality program.
"We will create a win-win for students who can leverage their bachelor's degrees to compete for jobs and promotions, as well as for employers who are looking for an educated and prepared workforce to fill in-demand leadership, management and supervisory roles.
"The great thing about leadership is that it applies to everyone—all of us are leading all the time whether we realize it or not, through our example and by serving others. Everyone also has untapped leadership potential."
Mathew and his family have moved to East Parker County and are enjoying their new life in Texas. In his spare time, Mathew likes spending time outdoors, watching sports and listening to music.
"Educator John Dewey said, 'We do not learn from experience. We learn from reflecting on experience,'" he said.