Coyote Chase Race returns to Weatherford
October 19, 2021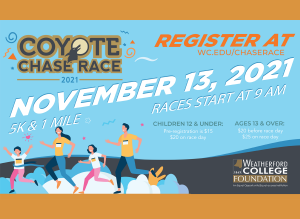 The 27th annual Coyote Chase Race 5K and 1-mile run will take place Saturday, Nov. 13, at Weatherford College after taking a year off in 2020 due to the COVID-19 pandemic.
Pre-registered runners will receive long sleeve, microfiber T-shirts.
Online registration is available at www.wc.edu/chaserace. RunTime Racing Services will handle the event's timing and course layout, and those who opt in will be able to use RunTime's chip-timing technology.
"The Coyote Chase Race is a family-friendly tradition and the largest and longest-running road race in Parker County," said Jaci Edwards, WC advancement specialist. "The event is complemented with fun festivities and is a great way to get out and enjoy your community!"
First Financial Bank will continue to provide trophies and medals for the event, a service the bank has provided every year since the race's inception in the mid-1990s. The top three finishers in more than 40 age categories will receive medals. Categories include all ages for the 5K and up to age 12 for the 1-mile.
Prior registration is $20 per adult runner with race day registration at $25. Children 12 and under are $15 during pre-registration and $20 on race day. Both races begin at 9 a.m.
For more information, visit the event website at www.wc.edu/chaserace.