Coleman to be honored for 51 years at WC
April 13, 2021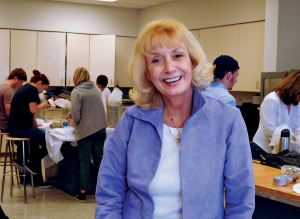 Weatherford College will honor former art instructor Myrlan Coleman, recognizing her career of 51 years at the institution on Friday, April 30, at the Alkek Fine Arts Center.
The event will be preceded by the Spring Student Art Exhibition and Reception in Texas Hall from 5 to 7 p.m. The presentation honoring Coleman will begin at 6:15 p.m. on the Alkek stage. A concert, "It's All About the Music," will follow at 7:30 p.m.
COVID-19 prevented the college from giving Coleman a proper sendoff last spring, so officials saw the previously scheduled student art exhibition and concert as a perfect pairing for her official retirement event.
President J.C. Nichols hired Coleman in 1969 after seeing her art in a Fort Worth gallery. She retired in 2020 after some 100 student art exhibitions, a Faculty Member of the Year Award, a Presidential Award from President Tod Allen Farmer and thousands of impacted students, faculty and staff.
"Myrlan's passion for teaching was only exceeded by her love of her students," said Rhonda Torres, WC dean of education and instructional support.
Duane Durrett, dean of fine arts, concurred.
"Myrlan has been a positive, creative and caring example for all her students and the people she has worked with," Durrett said. "Her passion for the arts, and how she was able to teach and instill this passion, are just a few of the many reasons she deserves this honor and recognition."
Admission for all three events is complimentary, and face masks are required inside the Alkek Fine Arts Center.
For more information, contact Torres at rtorres@wc.edu or Durrett at ddurrett@wc.edu.