Club celebrates $100,000 in gifts to WC Foundation
May 26, 2021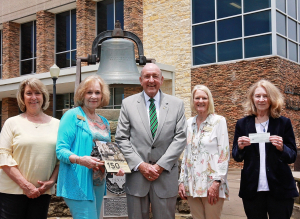 With their most recent donation, contributions from the Parker County Women's and Newcomers Club to the Weatherford College Foundation have crossed the $100,000 mark. Bob Glenn, WC Foundation president, thanked the club's Scholarship Committee at the college Tuesday.
"This club's generosity has made college education a reality for dozens of students over the years," Glenn said. "They should be really proud of what they have accomplished for this community."
Established in 1975, the PCWNC began its WC scholarship program in 1998. The scholarship is earmarked for female students of non-traditional age from Parker, Palo Pinto, Jack, Hood or Wise counties.
The club funds its scholarship primarily through membership dues, donations and fundraisers.
"Not only does the club provide scholarships, they also serve as mentors to their students," said Brent Baker, WC vice president of institutional advancement. "They invite the students to their monthly meetings and send them care packages during finals week and other times during the year. It's a very special relationship."
For more information on the Parker County Women's and Newcomers Club, go to pcwnc.org.